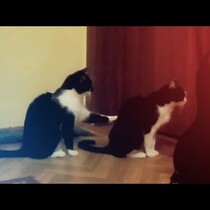 Posted February 12th, 2014 @ 4:31am
I feel like doing this some days. I've been having some power struggles with my 4 year old daughter lately. I think she is trying to rework the power structure in our home and Mommy ain't letting it happen. You can only be nice for so long! This video is called "Sky finally Snaps"....nope sorry, that's another video. This one is actually called "

Cat Tries to Apologize

"....