Douchiest Ice Bucket challenge Ever!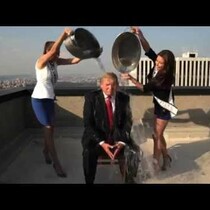 Posted August 29th, 2014 @ 5:57am
This is by far and away the douchiest Ice Bucket Challenge of all time! Just when you thought Donald Trump couldn't top himself with douchyness he does. From the Miss Universe girls pouring the water on him, the water being from trump water bottles and to him sitting on top of his building. It's so douchey that it's amazing!