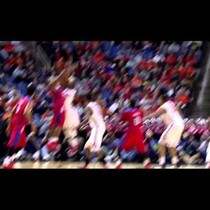 Posted March 21st, 2014 @ 5:41am
I'll admit it, I haven't really watched that much college basketball this year. I don't really have a specific team except for Maryland and they suck so I kind of keep an eye on what's going on but nothing to serious. Also there is such a sports lull after football ends that I get kind of over sports for the whole month of February. That all being said I made up for what I missed this year in one day yesterday. I literally watched college basketball from start to finish. From Dayton with the huge upset over Ohio St, all the way to the Aztecs almost blowing it over New Mexico St. Oh and I'm still hanging in there with my bracket too so I can't wait for today!
Here is Dayton pulling the upset and make sure you go to the 1:40 mark in the video to watch an epic fail during the celebration.