10 Biggest Celebrity Surprises at Comic-Con In The Past Decade
___________________________________________


2017 - Halle Berry chugged whiskey during a panel
At the "Kingsman: The Golden Circle" panel in 2017, Channing Tatum poured Halle Berry a full glass of whiskey the she then proceeded to chug in front of thousands of fans in Hall H.
The Kingsman is a film about a group of Scotch loving spies where Berry and Tatum represent the American spies who join them accordingly.
______________________________________________


2017 - 'Barb' appears in the crowd at the 'Stranger Things' panel
During the "Stranger Things" panel, Shannon Purser who plays the character "Barb" and also disappeared in season one showed up in the audience. She acted as a regular person in the crowd and asked the panel if her character would be returning for season two. The crowd - and the panel - loved her appearance.
_____________________________________________


2016 - Henry Cavill goes undercover and sneaks up on Will Smith
Both Cavill and Smith were at Comic-Con to promote "Suicide Squad" while Cavill took the opportunity to prank Smith. While wearing a "V for Vendetta" mask throughout the convention he even took photos with unsuspecting fans before surprising Will Smith himself.
_________________________________________
2013 - Bryan Cranston shows up as his own 'Breaking Bad' character
Yes, actor Bryan Cranston showed up to the breaking bad panel wearing a very realistic Walter White mask and then pulling it off to reveal that it was him. Because he is such a legend he also wore the mask out on the floor outside of the exhibition hall and no one even noticed.
And don't forget he even made out with himself...
_______________________________________


2013 - Tom Hiddleston shows up dressed like Loki
In 2013 Marvel fans were already enjoying a mind-blowing "Guardians of the Galaxy" presentation in Hall H when the lights cut out and then all you could hear was the voice of Loki. Then, actor Tom Hiddleston made an appearance dressed as the character to which the crowd responded with thunderous applause and chants of "Lo-ki! Lo-ki! Lo-ki!"
"I am Loki, of Asgard! And I am burdened with glorious purpose. Stand back, you mewling quim!" he said, according to The Los Angeles Times.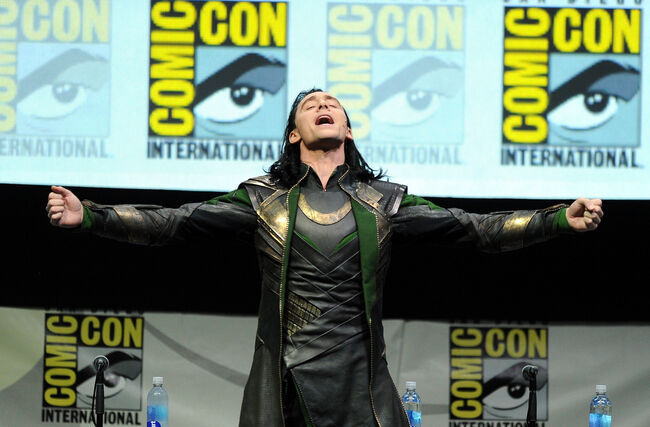 _______________________________________________
2011 - Andrew Garfield's emotional and undercover appearance
Andrew Garfield showed up to Hall H dressed as Spider-Man and calls it the coolest moment in his life.
"I've always wanted to be at Comic-Con in Hall H as Spider-Man with all of you guys, it's always been a dream of mine"
"I needed Spidey in my life when I was a kid and he gave me hope," Garfield said. "I'm humbled to be here like you do not know."
He gave a very emotional speech about how much the character meant to him growing up and how proud he was to be picked to fulfill the role.
________________________________________________
2009 - 'Twilight' cast arrives early to hand out breakfast to fans
You should know by now that the hardcore